---
Classes
Spring 2023 Semester Begins Monday, January 15
When music and movement are a natural, joyous part of childhood, children benefit greatly in many areas of life. Language development, self-expression, memory skills, concentration, social interaction, fine motor skills, listening, problem-solving, teamwork, goal setting, and coordination are all improved by early music and movement education. PCPC's Musikgarten classes provide a way for parents to give this gift to their children while bonding together. Grandparents are welcome, too!
Please note that a caregiver needs to be present with your child during class. Musikgarten takes place on Monday mornings and is taught by Deborah Waterman. Fall semester runs from September to December and spring semester runs from January to May.
Family Music for Babies
9:00-9:30 a.m. (0-18 months)
Family Music for Toddlers A
9:45-10:15 a.m. (15 months-2.5 years)
Family Music for Toddlers B
10:30-11:00 a.m. (15 months-2.5 years)
Cycles of Seasons
11:15 a.m.-12:00 p.m. (3-4 years)
Questions?
katie.haring@pcpc.org
Why Musikgarten? - Click here to learn more about Musikgarten.
---
Instructor
Deborah Waterman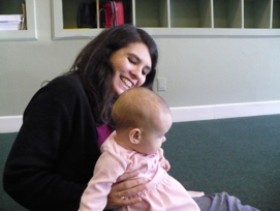 Deborah Waterman, the Coordinator of the Musikgarten program at PCPC, has been teaching Musikgarten for over 10 years. She holds a Music Education Degree from Westminster Choir College and a Masters in Choral Conducting from SMU. She has also taught music education in public and private schools in the area. Deborah has sung with the PCPC Chancel Choir and has appeared as a soloist with the church and currently sings with the Dallas Symphony Chorus. She has three children (who have all taken Musikgarten classes) whom she homeschools.