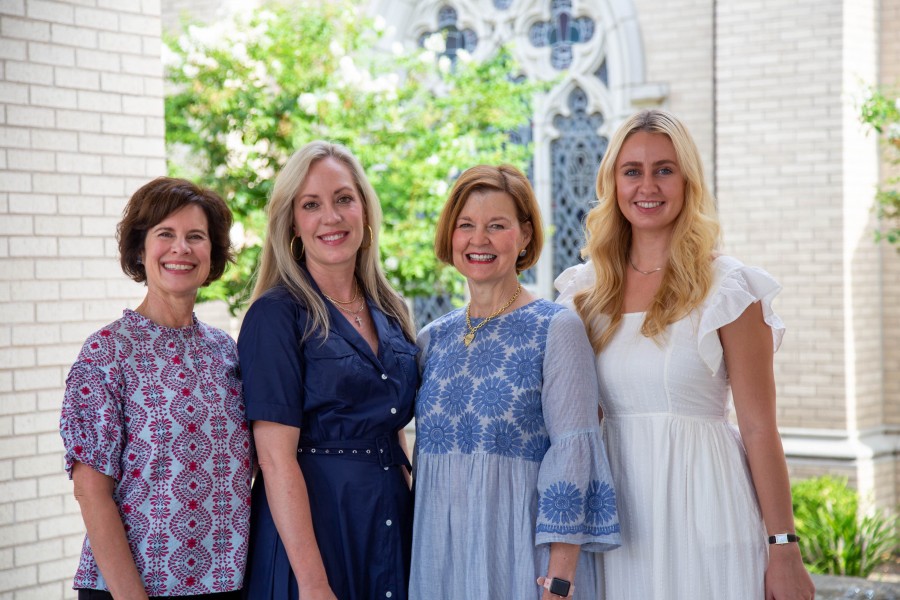 Welcome to PCPC Women!
We are glad you're here! To keep up to date on our latest events and programs, follow along with our social media! We will continue to update this page as changes occur.
YOU are loved by God and us!
If you need prayer, please contact PCPC Women.
It is our privilege to love and serve one another because of the incredible grace and love we have in Jesus!
"May the God of hope fill you with all joy and peace in believing, so that by the power of the Holy Spirit you may abound in hope." Romans 15:13
---
Weights & Worship
Join us for a fun-filled women's exercise class for all levels with weights, stretching, and cardio. The cost is $10 per class; registration will be open weekly. Childcare is provided from birth–4th grade.
---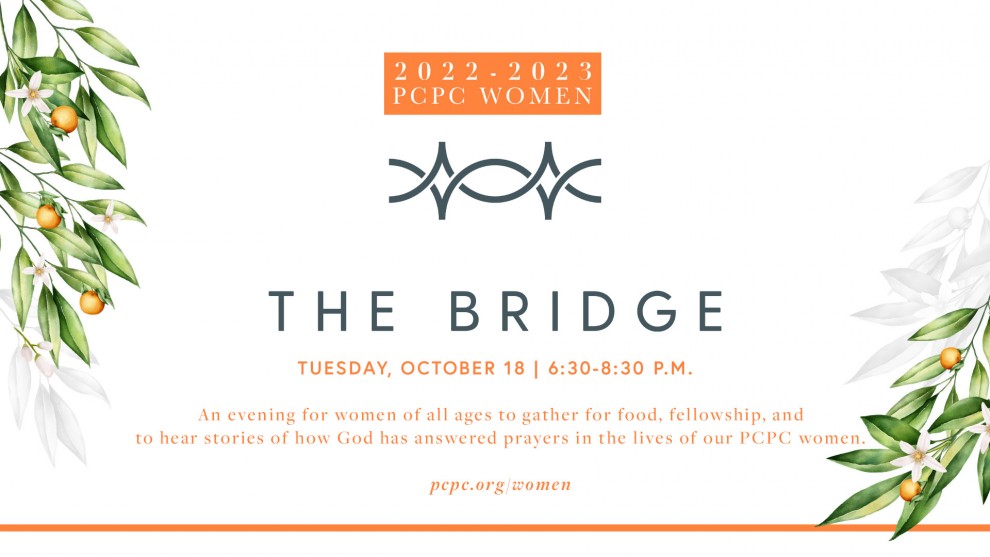 Join us at The Bridge for an evening with women of all ages. We will gather for food and fellowship and then hear from a panel of three women who will tell their experiences with the Lord through prayer and how God answered specific requests in their lives.
---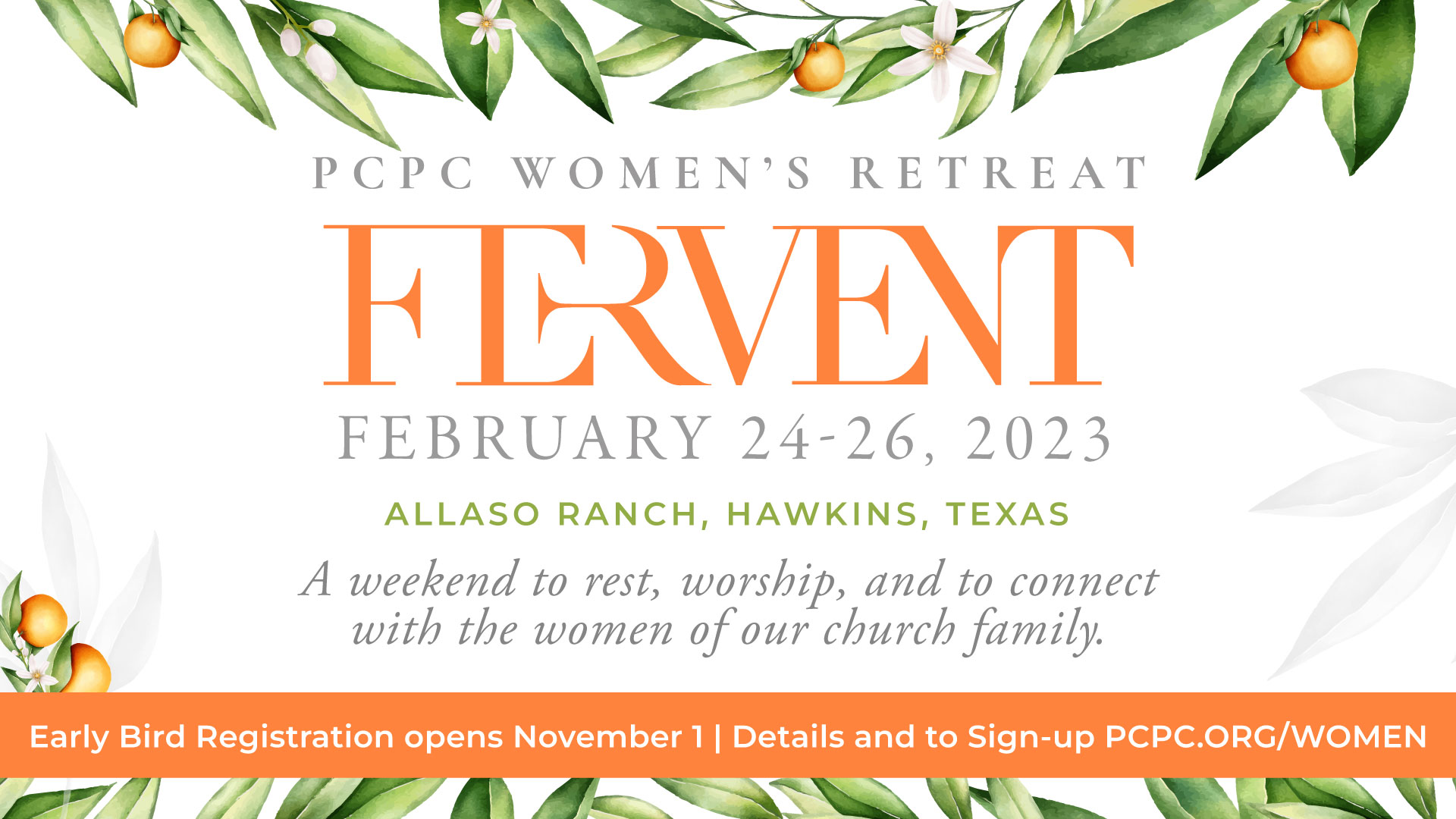 Join us for a relaxing getaway with women from our church family. Enjoy worship, teaching, meals, and time with the Lord at the beautiful Allaso Ranch in Hawkins, Texas. Early-bird registration is $225 starting November 1 and $250 after November 30.
About our speaker…
Author and teacher Courtney Garrett will help us uncover how a posture of confident expectation in the Lord can shape how we view our seasons of waiting, culminating in our patient longing for His return.
---
Preliminary Schedule:
Friday, February 24
5-6 p.m. Arrive
Dinner, worship, and teaching
Saturday, February 25
Come and go breakfast
Worship
Free time with the Lord
12:00 p.m. - Lunch
Relaxed afternoon together. We will have 3-4 options for activities that you can sign up for. (Examples: art class, guided walk, one-on-one prayer, horseback riding, card games, etc.)
6:00 p.m. Dinner, worship, and teaching
Sunday, February 26
8:00 a.m. - Breakfast
Worship, teaching, and communion
11:00 a.m. - Go home refreshed!
---
We hope you will join us for Women's Bible Studies this fall. We have many options of time and day, and one of them is just right for you! If you have any questions, please contact PCPC Women or our office by phone. We can help you find out which options work for you.
We look forward to growing in Christ and connecting with you through studying God's Word. Visit the pages marked in blue below for details on each study. Childcare is available by reservation only for the daytime classes for children birth-k.
---
FERVENT Bible Reading Plan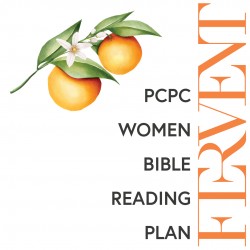 Are you looking for a way to stay connected this fall and continue in God's Word? We want to invite you to feast with us in the Scriptures. There is a table piled high and full of the most delicious food you can imagine, and we have a seat for you at the table. We are busy women with busy lives, and we spend lots of time reading many things, but are we routinely reading and consuming the entirety of God's Word? Let's desire to be strong women with a regular diet of Truth–fruitful and nourished women.
Below you will find a link to download the PDF plan. There are ESV paper-back Bibles available in the PCPC Bookstore for purchase, as well as printed PDF plans.
---
What's Coming Up?
September 13-15 - Women's Fall Bible Studies begin
September 15 - Weights & Worship begins for the Fall
---
Need Pastoral Care or Counseling?
---
Follow PCPCWomen on Facebook, Twitter, and Instagram!
Sign-up for the PCPC Women's Email List