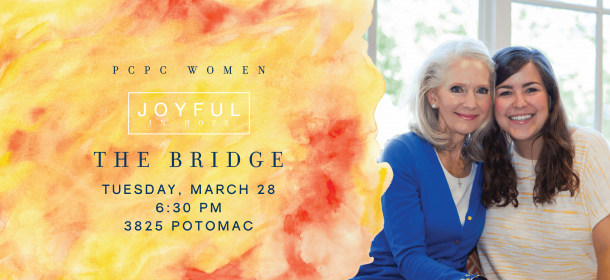 Tuesday, March 28
6:30–8:30pm
3825 Potomac Ave
Dallas, TX 75205
Come have dinner and listen to Sara Wood share the story of God's grace in her life. The Bridge is a gathering to encourage women of all life stages to come together and form cross-generational friendships while hearing about the power and presence of God in the life of a Christian woman. Dinner is $5 and no RSVP is necessary.
Questions? contact Abigail Powell, [email protected]
---
Contemplative Semi-Silent Retreat - ABIDING IN HOPE
May 5-6, Friday night, 6pm – Saturday, 4pm (one night only)
Montserrat at Lake Dallas
Cost $130
Solitude with the Lord is a vital means of grace to grow in the knowledge of God and provides the ground out of which community grows.This semi-silent retreat offers participants the opportunity to quietly meditate on God's Word in a beautiful setting as they enjoy their own private room. The retreat includes two brief teaching times with discussion and the remaining time in silence.
REGISTRATION WILL OPEN MARCH 27!
---
PCPC Women's Spring Bible Studies
Interested in joining one of our Bible Studies for the spring? We would love to have you!
FOR DETAILS ON EACH STUDY CLICK THE STUDY LINK BELOW
Tuesdays – A Mother's Heart, Precepts AM and PM
Wednesdays – Wednesday Watchmen AM and PM, Focus, Young Women's Bible Study (YWBS)
Thursdays – Thursday Morning Bible Study (TMBS)
3rd Tuesday/Thursday - Circles - For details see THIS WEEK or E-THIS WEEK
For more information on how to get involved in any of our women's studies
Please contact Leslie Newman
NEW ATTENDEES ARE WELCOME ANYTIME!
---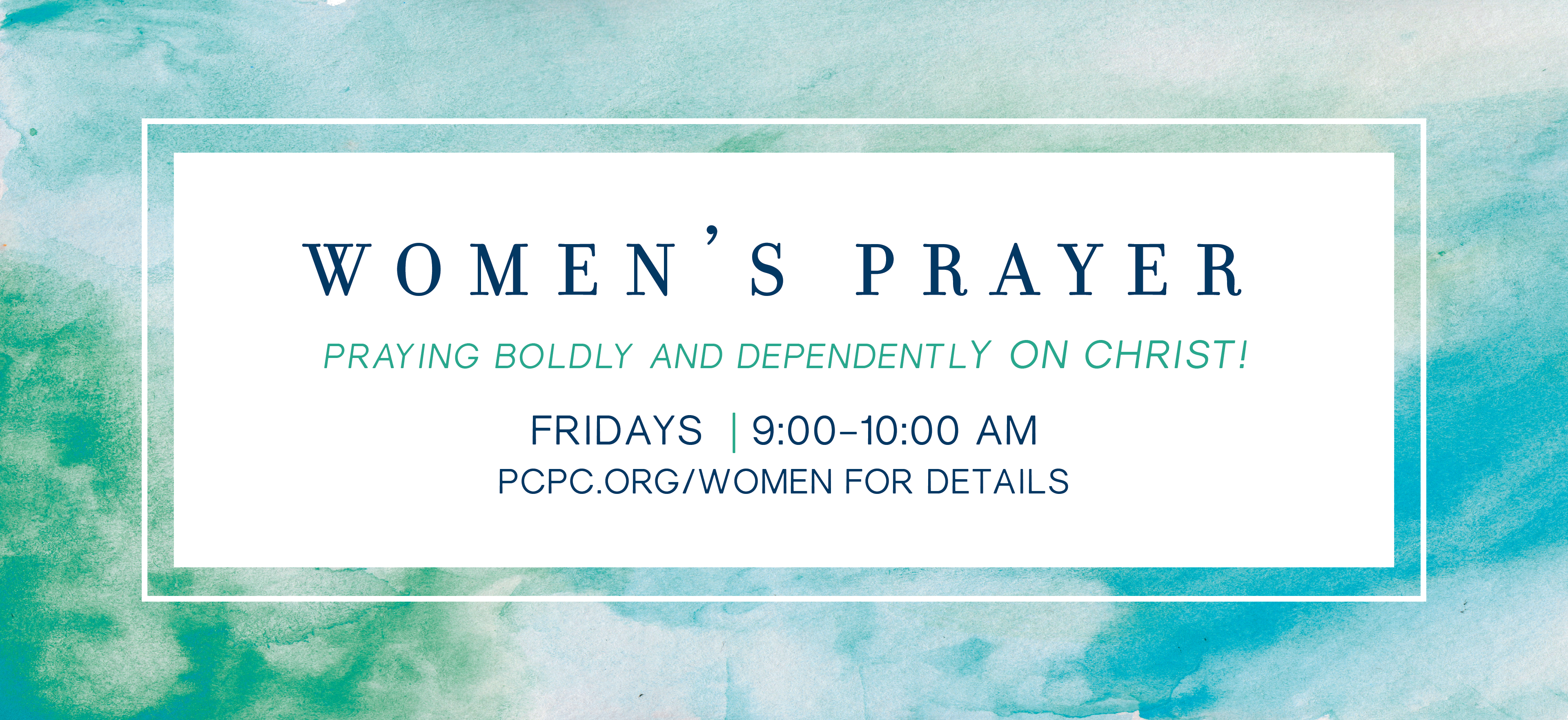 Women's Prayer
Every Friday morning
Dates and location can be seen here.
PCPC Women's Prayer meets every Friday morning to pray boldly and dependently on Christ! We are asking God to give us spiritual wisdom and insight so that we might grow in knowing Him better. We pray that our hearts will be flooded with light so that we can understand the confident hope He has given us.
Each week stands on its own, so please come when you can to pray for the concerns and needs of your heart and family, our community, city, and the world!
---
Follow PCPCWomen on Facebook, Twitter, and Instagram!